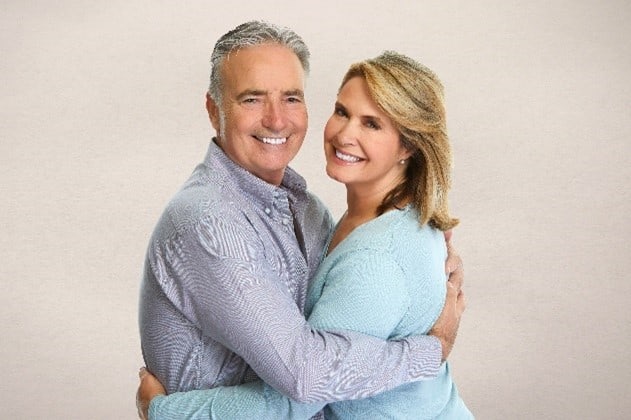 For a long time, the best, most practical option for patients who needed to fully replace the teeth in their mouth was dentures. Nowadays, if you find yourself in a similar situation, you have a better choice available: All-on-4 dental implants.
What Are All-on-4 Dental Implants?
Instead of trying to replace every single tooth in the mouth with a dental implant (which for many is prohibitively expensive), All-on-4 dental implants uses just four strategically placed implants to restore an entire row of teeth in one sitting. Because of the amazing reputation of our dentists, Pacific Northwest Periodontics receives many referrals from patients in need of an entire row (or both rows) of teeth. Here are 5 reasons why you are likely to enjoy All-on-4 more than traditional dentures:
1. Security in Your Mouth
Unfortunately, dentures can sometimes slip out of place when you chew, speak, cough, etc. It is annoying and sometimes embarrassing to have to adjust them back to their proper position. With All-on-4, you do not need to worry about your teeth suddenly falling out of position. Because your prosthetic teeth are surgically attached to your jawbone, they remain securely in your mouth.
2. Feel More Like Your Own Teeth
Because All-on-4 teeth do not get removed each day, it is easier to forget that you are wearing prosthetics. Instead, they quickly feel like a normal part of your mouth. It is easy to get self-conscious at any point when you are reminded that you are wearing dentures, so the less you must think about your teeth, the better.
3. Less Maintenance
Although dentures are not difficult to take care of, they do need to be removed from the mouth each day, cleaned and left to soak in water. With All-on-4, you can treat your teeth as you would your natural teeth: just brush and floss them each day!
4. Longer Lasting
With proper care, All-on-4 dental implants can last 25 years or even a lifetime. On the other hand, traditional dentures tend to max out at about 10 years. If you want to keep your teeth for as long as possible and do not want to swap out for new teeth as often, All-on-4 dental implants are the right choice.
5. Strengthening the Jawbone
When teeth fall out, the jawbone that supports the teeth gets weaker. People who wear traditional dentures usually experience jawbone atrophy, which can gradually change the shape and appearance of the face. The use of titanium posts in dental implants mimics a tooth root, which helps to keep the jaw strong. In the long-term, having All-on-4 can do more to protect the jawbone.
Learn More about All-on-4
Allow the implant specialists at Pacific Northwest Periodontics to explain more about All-on-4 and its many benefits during a consultation. Our amazing dentists in Seattle and Kent, Washington can provide you with a beautiful, functional smile. You may request an appointment online or call (206) 575-1086.