Dental Implant Advantages and Benefits in Seattle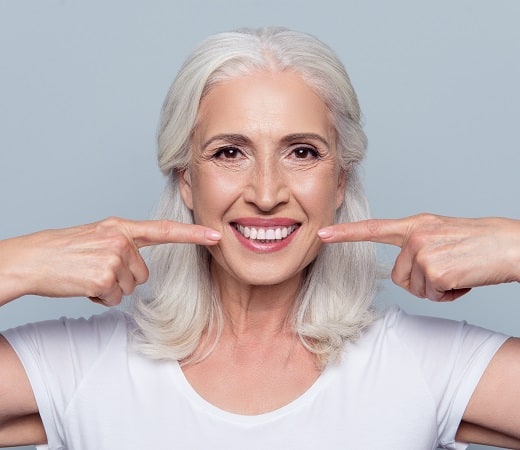 Dental implants offer unparalleled advantages over the traditional tooth replacement options of bridges and dentures. From optimizing oral health to restoring self-confidence shattered by tooth loss, choosing implant solutions from premier implant specialist Dr. Darrin Rapoport unequivocally offers a return to the quality of life you have been missing.
Benefits of Dental Implant Technology
Look, feel and function like natural teeth
Extremely strong and durable
Longest-lasting replacement option available
Rival natural teeth in withstanding biting and chewing forces
Deliver high-end, customized esthetics
Allow enjoyment of favorite foods and confident communication
Designed to last a lifetime, with proper homecare and regular dental visits
High rate of success, when placed and maintained properly
Improve quality of life unlike any other solution
Top Rated Implant Dentist
Your oral health is extremely important to you, and to us. We offer only best-in-class care, with the technology, experience, and results to back it up. Dr. Rapoport has placed over 10,000 dental implants and maintains an astounding success rate of 98 percent. In fact, this esteemed member of the International Congress of Oral Implantologists is the specialist whom other dentists count on for their own personal care.
With dental implants from Pacific Northwest, no one will ever know you are missing natural teeth. Implants blend so masterfully with the smile, patients themselves often fail to notice the difference between implants and their own teeth. Make a life-changing decision that will solve your tooth replacement needs: Schedule your private consultation with Dr. Rapoport today.
FAQs
What are dental implants?
A dental implant is a small post that replaces the root of the missing tooth. An abutment is secured on top of the dental implant and connects it to the replacement tooth (crown). A custom crown is then attached to the implant, completing the procedure, and restoring the appearance and function of the replaced tooth.
How much do dental implants cost?
Dental implants are a customized treatment; as such, the total cost of treatment, including the consultations ahead of and following the procedure, varies from patient to patient. Schedule a consultation with Dr. Rappaport to start the process of determining your treatment plan and associated costs.
Can I go to any dentist for dental implants?
Dental implant treatment is a complex procedure that requires a skilled provider who can help minimize the chance of implant failure and reduce the risk of avoidable complications. Dr. Rappaport boasts an impressive success rate for the procedure and has earned an excellent reputation for restoring his patients' smiles. To receive expert dental implant care, schedule a consultation with Dr. Rappaport today.
How long does it take to undergo a dental implant procedure?
The total treatment time depends on your circumstances, including your dental history, the quality of the bone that will house the implant, and the techniques used.
Are dental implants safe?
Dental implants are a safe and effective tooth replacement option. While complications can occur with any procedure, selecting an experienced provider can increase the chances of a successful dental implant placement.
Am I a candidate for dental implants?
Dental implants are a popular choice for tooth replacement and appeal to a variety of patients. Those that are interested in dental implants often desire to replace one or more missing teeth and want a permanent and durable solution. Schedule a consultation with Dr. Rappaport to help determine your candidacy for implants.
How long will my dental implants last?
Where natural teeth are vulnerable to dental disease and decay, dental implants are not prone to this kind of damage. With that said, it is still vital to maintain the health of your gums to support overall oral health. Establishing a healthy dental routine that includes flossing and brushing is essential for a healthy smile. Additionally, keep up with regular dental visits for proper cleanings and detection of any issues that may arise.
Are dental implants removable?
Dental implants are secured into the bone of the jaw and are fixed solidly in your mouth. They are not removable in the same way as other tooth replacement appliances, such as dentures. Dental implants are a permanent and safe tooth replacement option.
Can I get implants if I have gum disease?
Gum disease greatly diminishes the health of your mouth and leads to tooth loss if left untreated. During your consultation with Dr. Rappaport, it may be determined that you need to undergo other treatments before having dental implants placed. This is to ensure an optimal result. If you suffer from gum disease, gum treatment ahead of your implant procedure may help restore your oral health.
What causes missing teeth?
There are many potential causes of missing teeth, including:
Tooth decay
Periodontal disease (often related to poor dental hygiene)
Tobacco use
Consuming a sugary diet
Injury to the mouth
Additionally, some individuals with a condition known as congenitally missing teeth are born without some of their teeth.
Why should I have my missing tooth replaced?
Missing teeth can lead to a host of other dental issues if left untreated, such as:
Problems chewing and biting into food
Severe jaw pain
Excess stress on the jaw
Misaligned bite (malocclusion)
Issues with appearance
Why should I replace teeth that no one can see?
Those with missing teeth are facing more than a cosmetic issue. While not all teeth are visible when smiling and speaking, they all play an important role, and missing even one tooth can impact the health of your mouth. Many people have teeth that are missing but choose to ignore the issue because the teeth are not visible. Missing teeth can put additional stress on the neighboring teeth and jaw, causing shifting, pain, and other problems.
How much does a dental implant cost?
At Pacific Northwest, your dental implants are tailored to your needs. The total cost of dental implants is based on your exact course of treatment, including the number of missing teeth you have. To understand more about the cost associated with dental implants, schedule a consultation with Dr. Rapoport.
Can I prevent tooth loss?
It is possible to prevent tooth loss in certain cases. Establishing a good oral hygiene routine that includes regular brushing, thorough flossing, and the frequent use of products with fluoride can help prevent tooth loss related to decay or gum disease. Additionally, using a professionally fitted mouthguard can help protect your teeth while participating in contact sports. However, not all tooth loss can be prevented, and safe, effective treatment for missing teeth is available to you at Pacific Northwest.
What should I do right after I lose a tooth?
Sudden tooth loss, such as if a tooth is knocked out while you are participating in a sport, can be a distressing event. However, it is advised that you seek treatment right away. If your tooth is not able to be saved, dental implants are an excellent alternative for restoring the function and appearance of your smile.
Can I get dental implants if I suffer from gum disease?
Sometimes, gum disease can lead to tooth loss if the condition goes untreated. If this is the case and you are considering dental implants to restore your missing tooth, you will need to consult with Dr. Rapoport, who will determine if you need other treatments before receiving dental implants to improve your oral health and ensure the best result possible for your smile.
Do dental implants last?
Dental implants can last for decades, allowing you to enjoy a great smile for years to come. However, gum health is an important factor in the longevity of your implants, which is why proper brushing, flossing, and regular cleanings are necessary to ensure a healthy and lasting result.
Can I go to any dentist for dental implants?
If you are considering dental implants, you need a skilled professional that can properly place your implants, minimize the risk of implant failure, and reduce the overall risk of avoidable complications. Dr. Rapoport has specialized implant training and extensive experience restoring the smiles of many patients. He and his dedicated team look forward to helping you achieve a great smile.