Dental Implant Procedure Timeline – Pacific Northwest Periodontics
Unwavering Focus on Dental Implant Success
Implant solutions provide a remarkable change in quality of life and smile appearance. To deliver successful results, our experienced implant team works according to a specific timeline, with our ultimate priority being your safety and comfort. Our highly credentialed team consists of leading implant expert Dr. Darrin Rapoport, Board Certified Prosthodontist Dr. Keith Phillips and our trusted anesthesiologist.
Timeline of the Process
1. Personalized Consultation And Discussion Of Treatment Options
Detailed review of your medical and dental histories
Complete medical work-up (blood panel, glycemic index, bone scan, etc.)
Advanced imaging diagnostics (low-radiation digital x-rays and CT scans)
2. Treatment Planning Phase
Review and study of 3D images of your teeth, bone and anatomical structures
Precision mapping for ideal placement of implants within your jaw
Planning and preparation for minimally invasive process
3. Pre-Surgery Visit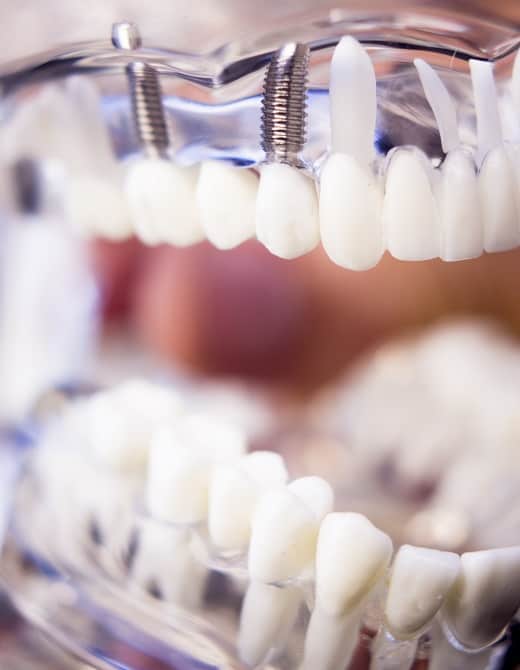 Process review and finalization of procedure with Dr. Rapoport
Impressions and measurements for your new teeth with Dr. Phillips (will place final restorations)
Consultation with anesthesiologist
4. Day Of Implant Surgery
Entire team (Dr. Rapoport, Dr. Phillips and anesthesiologist) are present throughout the surgery.
Anesthesia is administered by our anesthesiologist, so Dr. Rapoport's full attention is on you and your procedure. (Please have a companion for transportation, or take advantage of our concierge limo service.)
Only one patient per day is scheduled with All-on-4® cases, allowing you Dr. Rapoport's undivided attention.
Extractions are performed (if necessary) and implants are placed.
Temporary fixed-in teeth are placed by Dr. Phillips.
5. Post-Operative Follow-Up
Dr. Rapoport calls to ensure your comfort and condition.
Several visits over the next few weeks will take place to evaluate healing.
6. Enjoying Your New Teeth
You can resume normal activities in one to two days following your procedure.
Dr. Phillips will deliver your final restoration once your implants have fully integrated with the jaw bone.
A custom nightguard will be fitted if you have a history of teeth grinding.
Most Experienced Dental Implant Team in Seattle
Do not leave the future of your smile to chance. Choose Seattle's most experienced, knowledgeable and caring implant team to restore your oral health. Dr. Phillips is one of only 20 Board Certified Prosthodontists in the entire state of Washington, and highly regarded in the dental community. Having placed over 10,000 implants at a 98 percent success rate, Dr. Rapoport leads our team with expertise you want for your smile.
If you are ready to schedule your consultation with our experienced dental team at Pacific Northwest Periodontics then please give our Seattle office a call today! We are excited to help you achieve the smile you have always wanted.