Dental Implant Options in Seattle & Kent, WA
Living without a full set of teeth impacts your ability to eat, speak and enjoy life to the fullest. As a highly experienced implant expert in Seattle, having performed over 10,000 implant surgeries, Dr. Darrin Rapoport offers the opportunity to replace your missing teeth and regain control of your smile with the long-term solution of dental implants. Implants provide abundant flexibility and versatility and can be applied in nearly every case where tooth loss has or will soon occur.
Dental Implant Options
Whether you need full-mouth dental implants or a single-tooth implant, you can rest assured that Dr. Rapoport and his team have your best interest in mind at all times. Backed by the knowledge and technology that has been developed for dental implants, we promise to provide you with high-quality service with every visit. When you trust us with your dental implants, you'll have the pleasure of regaining your beautiful smile, giving you the confidence and functionality you need to live your life.
Single Dental Implants
Single-tooth dental implants allow for individual replacement of teeth missing anywhere in the mouth. Implants integrate firmly with bone, replacing both root and crown portions of teeth and with proper care, produce permanent, lasting results.
Implant Supported Dentures
Full-arch tooth replacement is comfortable and secure with implant denture solutions. Supported by two or more implants, these appliances are ideal for those transitioning from traditional dentures or when facing multiple extractions.
All-on-4® Technique
Whether suffering from bone loss or you're tired of dealing with removable dentures, you can enjoy a stable, aesthetic, full-arch tooth replacement solution with same-day All-on-4® implants.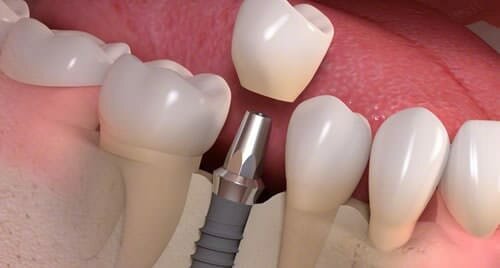 Tooth Replacement Options FAQs
Can I choose not to replace a missing tooth or teeth?
Our periodontists strongly recommend that you replace a missing tooth to maintain strong oral health. When you leave a space in your mouth, your other teeth start to shift to fill in that space, which can harm the alignment of your teeth and also downgrade the quality of your bite. At the same time, your jawbone can atrophy without a tooth or replacement tooth to fill this space.
Will my replacement teeth look realistic?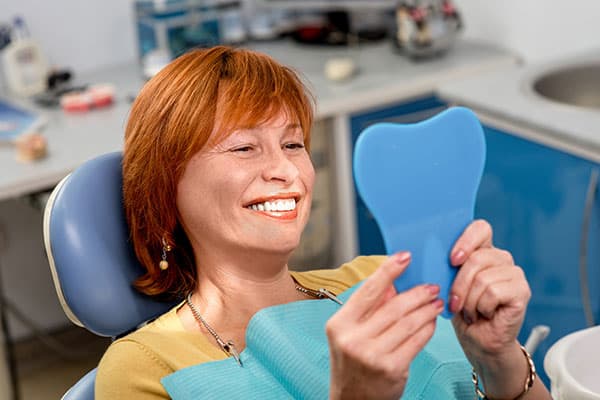 Today's prosthetic teeth — whether you need a single dental implant or a row of teeth attached to implants — are of extremely high quality. Our periodontists help you to select implants that correspond perfectly with the size, shade and shape of your other natural teeth. The idea is to ensure that your smile appears seamless so that no one can tell you have a dental implant.
How are implant supported dentures and All-on-4 dentures different?
Both dental solutions can replace a row or multiple rows of teeth in your mouth; the main difference is in the removability. Implant supported dentures are also known as snap-on dentures since they can snap in and out of your mouth. Meanwhile, All-on-4 dentures are permanently secured to your mouth and stay in place at all times. Although both of these options are considered superior to traditional dentures, All-on-4 are considered slightly easier to eat and speak with. As a tradeoff, dentures that snap off can be easier to keep clean since they can be brushed externally and soaked. Of the two options, All-on-4 dentures generally cost more.
How are All-on-4 dentures better than traditional dentures?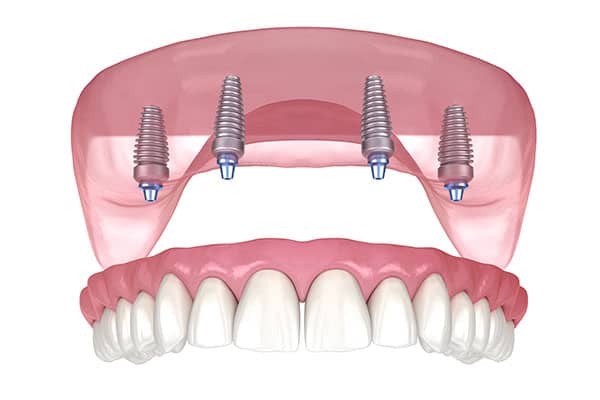 Because All-on-4 dentures attach directly to your mouth, your teeth are secure and will not accidentally slip around. Just as importantly, the implants can help to slow the erosion of your jawbone. Since tooth roots play a big factor in bone strength and ordinary dentures offer nothing in the way of simulating tooth roots like implants do, your facial structure can degrade over time with dentures.
If I can replace as many teeth as I want with dental implants, why would I choose implant-supported dentures?
To put it plainly, dental implants are not an inexpensive treatment. The cost of replacing many teeth at once would quickly become prohibitive for many patients. By using a limited number of implants to secure whole rows of teeth, you get the benefit of dental implants without having to pay for each tooth individually. Performing too many procedures on your jawbone may also be inadvisable for its overall health. If you have many teeth that need replacement, schedule a consultation with Dr. Rapoport to determine what the best customized plan for your mouth is.
Why should I choose Pacific Northwest when I need to replace teeth?
While many dentists in Washington offer dental implant services, few specialize in this treatment. The periodontists at our practice have extensively studied and performed tooth replacement procedures for superior results and exceedingly low health risks for your gums. When you choose the best care available, you can usually enjoy your new teeth for many decades.