Peri-Impantitis Treatment in Seattle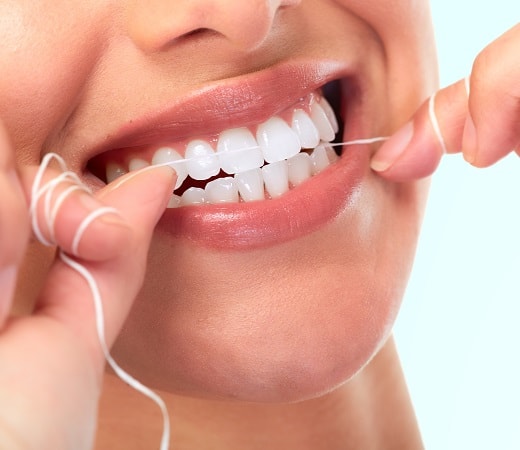 Problems with your Dental Implants?
Implants should be treated and cared for just like natural teeth – which means proper, meticulous daily homecare and regular cleanings and checkups. However, if at any time, something about your implant seems a bit off, an immediate evaluation is in order. Peri-implantitis, inflammation impacting the gum and bone tissue around implants, is a significant threat, and can lead to the loss of supporting bone and the implant itself if not promptly addressed.
Causes of Peri-Implantitis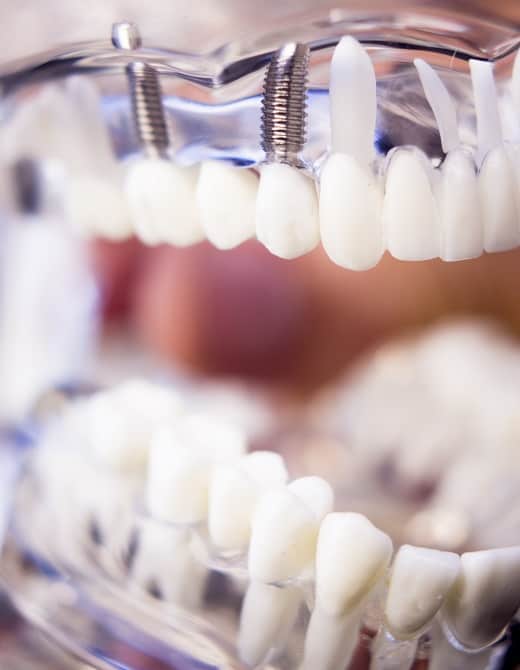 Poor Oral Hygiene
Smoking
Diabetes
Excess Dental Cement
Ill-Fitting Crowns/Restorations
Surgical Error
Peri-Implantitis Symptoms
Bleeding when brushing or flossing
Swollen gums
Gum tenderness
Change in color or texture of gums
Presence of pus
Loose implant
Implant starting to show
Protect Your Investment With Peri-Implantitis Care
Prompt treatment of peri-implantitis is critical to saving your implant and protecting your investment. As Seattle's premier implant surgeon and member of the International Congress of Oral Implantologists, Dr. Darrin Rapoport holds a wealth of implant expertise, and can treat your peri-implantitis by rooting out causative agents, getting you back on track to enjoying your oral health and your smile.
Peri-Implantitis Treatments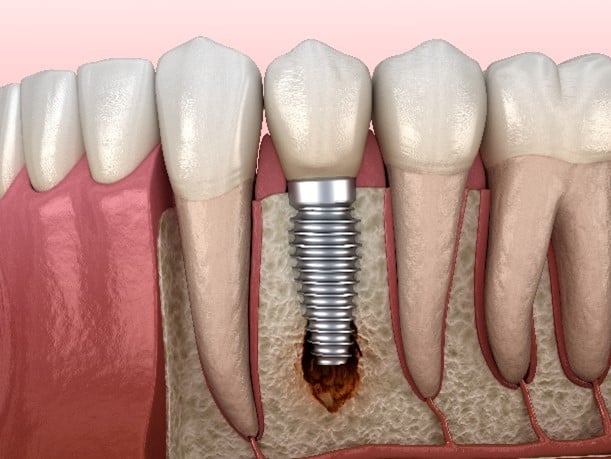 For many, the first treatment option is a non-surgical, deep cleaning that uses formulated mouthwashes (with chlorhexidine) and gels to eradicate pockets of bacteria in the gums. Dr. Rapaport can check for other debris (such as crumbled dental cement from crowns) that may be inflaming the gums. You may also receive antibiotics to help address gum infection around a dental implant.
A minimally invasive laser treatment can also be effective at treating bleeding gums around an implant. Here, Dr. Rapaport uses a custom laser that reaches in the small space between the tooth and the gums to destroy the bad bacteria (while leaving the helpful bacteria intact).
In the most serious cases of peri-implantitis, surgery can be necessary. If you have suffered bone loss due to peri-implantitis, you may need bone regeneration surgery, which grafts donor bone to strengthen the jawbone and continue holding the dental implant. Resective surgery flattens the irregularities on the bone so that the gums can reattach more snuggly with fewer or smaller pockets where bacteria can accumulate. Implantoplasty is a third surgical option that removes the ridges on the screw that connects the dental implant so that it has a smooth surface, allowing the gums to attach to the implant more securely.
Most patients end up undergoing a combination of these treatments. During a consultation, Dr. Rapaport will develop a customized treatment plan that best addresses the root causes of your peri-implantitis.
Peri-Implantitis Costs
With many peri-implantitis treatments offered at Pacific Northwest Specialists in Periodontics and Dental Implants, the cost depends on which procedures are deemed necessary to improve your gum health and protect the longevity of your implant. Our practice is in-network for patients with Delta Dental plans. Regardless of your insurance, our team will work to ensure you collect the maximum benefits you are entitled to in your policy. Financing options are available if you need help covering the out-of-pocket costs.
Peri-Implantitis FAQs
Are there stages to peri-implantitis?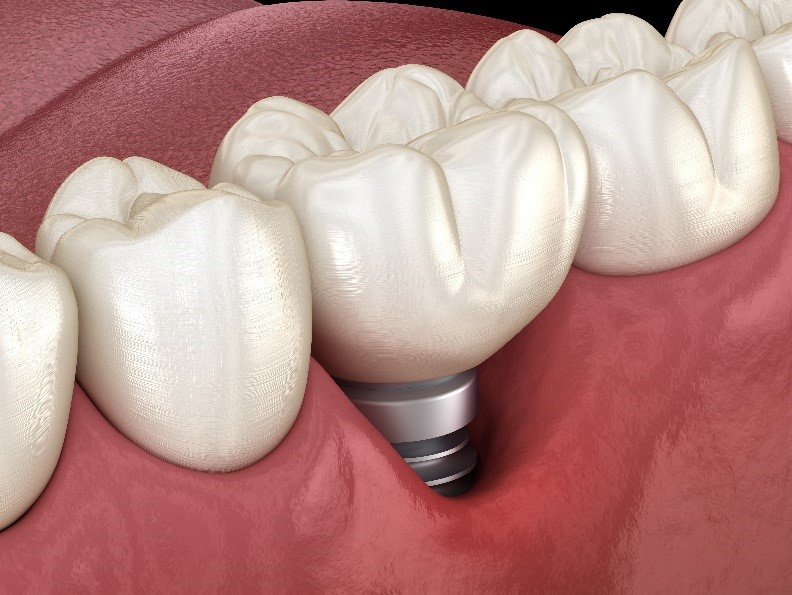 Much like gingivitis precedes periodontitis, peri-implant mucositis is considered the precursor to peri-implantitis. Peri-implant mucositis is mild infection of the gums immediately surrounding a dental implant. Since it is reversible with improved oral hygiene habits and professional cleanings, you should address this problem immediately to prevent the inevitable bone loss associated with peri-implantitis.
Is peri-implantitis painful?
Although peri-implantitis can be severely detrimental to your oral health, most patients do not experience pain related to this condition. More likely, patients will notice sensitivity or slight discomfort when eating, as well as other signs like blood when brushing around the dental implant.
How can peri-implantitis be prevented?
The best way to protect your dental implant is to brush and floss every day and undergo twice-annual cleanings from a dental professional to keep the gums around your implant clean. Some people mistakenly believe a dental implant can receive less care because it is an artificial tooth when, in reality, it needs just as much care as natural teeth. Dental examinations that include digital X-rays can help catch bone erosion before it becomes too serious. Quitting (or not starting) smoking is also advisable since that has serious negative effects on your oral health.