All-on-4® Implants vs Dentures in Seattle
Why Dentures are More Problematic Than All-on-4 Implants
Dentures are a solution derived from convenience and economics. In reality, this temporary option reduces the overall quality of life and costs you more in the future, both in health and financials. Allow us to introduce the All-on-4® implant alternative, designed to save you from denture complications like:
Restricted Diet
Dentures allow only 10 percent of normal chewing power. Adhesives and pastes are inconvenient and impact the ability to taste food.
Quality of Life
Dentures inhibit maximum oral function, diminishing overall quality of life.
Bone Deterioration
Dentures do nothing to maintain bone structure, which contributes to bone loss.
Instability
Dentures rest on top of the gums, slip, and cause embarrassment and discomfort.
All-on-4® Saves Your Health, Smile and Confidence
Nothing is as good as your natural teeth. However, Dr. Darrin Rapoport and our Board Certified Prosthodontist can immediately improve how you experience life with the revolutionary All-on-4® implant technique. All-on-4® offers advantages like:
Same-day process (extractions, implant surgery and restoration
Inexpensive and easy to care for
Teeth are fixed (never need to be removed)
Appropriate for almost everyone, including those with bone loss
No need for bone grafting
Extremely stable, natural chewing function (up to 80 percent chewing power)
Normal chewing ability stimulates bone, preventing bone loss and facial sinking
Most economical fixed full-arch solution
Instant quality of life improvement and self-confidence boost
Over 90 percent proven success after 10 years
All-On-4® on King-5 News
Jean Enersen reports on Teeth In a Day
"Mention the word dentures and Baby Boomers will cringe. But the Alternatives like implants can take up to two years to complete. Well now a local Periodontist is the first in our state to take a new approach. It get the job done in a day."
What Is All-On-4®?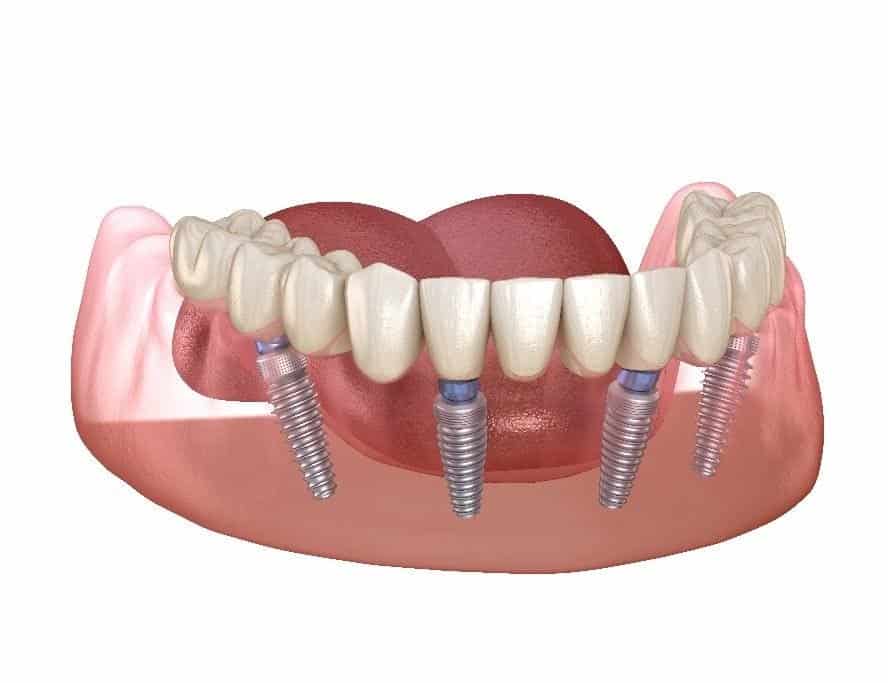 Dental implants are usually the best solution for replacing missing teeth, but in cases where an entire row or rows of teeth are missing, it can be impractical and prohibitively expensive to replace each tooth with an individual implant. In these situations, All-on-4® dental implants may be the smartest approach.
As the name suggests, the entire row of prosthetic teeth is supported by four dental implants. Your periodontist surgically attaches four small titanium posts directly into the jawbone. These posts are used to hold the new row of teeth securely in place.
Unlike dentures, these teeth do not come out of your mouth. That means you can and should brush them, chew with them and smile with them in the same way that you would with natural teeth.
Get All-On-4® In Just One Day
Although Pacific Northwest Periodontics and Dental Implants is not the only dental facility in the area to offer All-on-4® implants, we are one of the few locations to provide them to our patients in a single day. We have an in-house lab that allows us to create prosthetics for you on the spot.After taking impressions of your mouth, our lab technician immediately gets to work creating customized prosthetics that fit perfectly in your mouth. Instead of a drawn-out process spread over multiple appointments, we provide you with a full set of teeth on the same day the titanium posts are attached to your jawbone. This enables you to avoid the awkwardness of having gaps in your mouth while waiting for your teeth to be created in an outside laboratory.
All-On-4® FAQs
Who is a good candidate for All-on-4®?
The best candidates for All-on-4® are missing an entire row of teeth (there may be some unhealthy teeth in this row in need of extraction) and want to replace them with prosthetics to attain a complete, functional and attractive mouth. Our periodontists take certain health considerations (including jawbone density) into account when assessing a candidate, but most patients we meet are suitable for this procedure.
What if I am not a candidate for All-on-4®?
If your jawbone is not strong enough to support an entire row of teeth with just four implants, our periodontists may suggest using more implants, such as an All-on-6 option. We will use our expertise to try to find a solution that successfully repairs your mouth without the need for dentures.
Will insurance cover my All-on-4® implants?
Coverage for dental implants depends on your specific insurance plan. Some plans may cover parts of the procedure, such as tooth extraction. We have a finance coordinator on our team to help you maximize the benefits you are entitled to and limit your out-of-pocket expenses for All-on-4 implants.
If you would like to pay for your All-on-4® implants in installments, we accept financing options through CareCredit and Lending Club Patient Solutions.
Do All-on-4® implants look better than traditional dentures?
Most patients prefer not only the aesthetics of All-on-4® implants, but also the way the implants feel in their mouth. The teeth feel so real with All-on-4® that it's easy to forget you have prosthetic teeth. Moreover, the people you meet usually have no idea that your implants are not your natural teeth.