Gum Disease Treatment in Seattle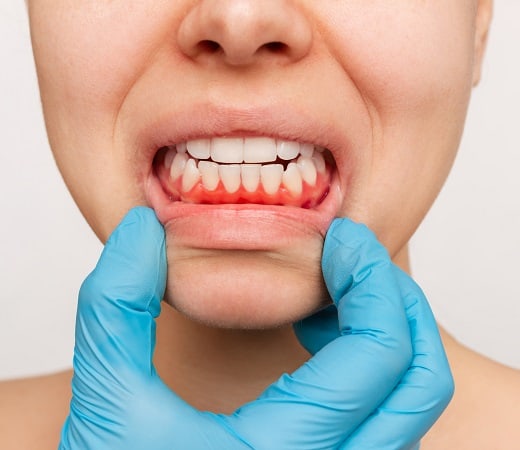 How Gum Disease Affects The Body
Tooth loss is not the only price to pay for failing to address periodontal (gum) infection. Gum disease has been linked to systemic illnesses like diabetes, stroke and heart trouble, among others. Treatment from Seattle's premier periodontist, Dr. Darrin Rapoport at Pacific Northwest Periodontics, halts the disease process, improving your chances of keeping your teeth and protecting your general health.
Why Treat Gum Disease?
Leaving gum disease untreated only invites further oral and overall health complications, such as:
Jaw bone loss
Tooth loss
Heart trouble
Respiratory illness
Risk of stroke
Diabetes
Memory problems
Certain cancers
Pre-term labor
Low-birth weight infants
Gum Disease Symptoms Warrant Prompt Evaluation
Bleeding when brushing, flossing or eating
Tender, red or swollen gums
Oral malodor
Bad taste
Presence of pus
Loose teeth
Tooth sensitivity
Stages Of Gum Disease
Gingivitis
As plaque amasses around the gumline, toxins begin to inflame the gum tissue. You may notice some bleeding when you brush and floss your teeth. Other potential symptoms of gingivitis include bad breath and swollen/receding gums. The symptoms may feel subtle enough that you do not feel motivated to act, but it is important to address the problem early to avoid developing periodontitis by seeking gum disease treatment.
Periodontitis
As gum health worsens, a gap forms below the gumline, which leaves space for bacteria and plaque to gather, further aggravating the situation. As a result, the bone and fibers responsible for keeping your teeth strong, weaken. By this point, the symptoms, including tooth sensitivity and loose teeth, become more obvious.
Advanced Periodontitis
The final stage of gum disease occurs when the jawbone is no longer capable of supporting your teeth. Teeth can shift out of place or fall out altogether, which has a dramatic effect on your bite. Reversing the damage is no longer possible, which is why it makes sense to treat gum disease as soon as it is detected.
Consult with Top Periodontists
"I'm very thankful for my smile back."
Practicing dentistry for over 25 years and a Diplomate of the American Board of Periodontology, an elite status only earned by 10 percent of U.S. periodontists, Dr. Darrin Rapoport proudly provides a variety of services to treat all stages of gum disease. Such treatments include:
Osseous Surgery
Scaling and Root Planing
Perioscope Therapy
Periodontal Maintenance
Scaling And Root Planing
Scaling and root planing is a two-step, non-surgical procedure that provides your gums with a deep clean. Scaling refers to scraping off the tartar and plaque on the teeth above the gumline. Root planing involves smoothing out the uneven surface of the teeth to allow the gums to attach to the teeth more securely. Scaling and root planing are the most frequently used treatments included in periodontal maintenance.
Perioscope Therapy
Perioscopy (sometimes called dental endoscopy) is an amazing technological advancement that uses tiny cameras to assess your gum health beneath the gumline. With this information, your periodontist knows exactly where to target trapped plaque and bacteria.
Osseous Surgery
Osseous surgery provides an even deeper cleaning of the bacteria trapped between the gums and teeth than scaling and root planning. Simultaneously, the surgery reduces the size of the pockets that exist between the gums and teeth to help preserve their health and limit damage.
Gum Disease Treatment FAQ
Who is at risk for gum disease?
Since plaque causes gum disease, the leading factor for developing this health problem is a failure to practice good oral hygiene by brushing and flossing daily. Other factors can further elevate your risk for periodontal disease, such as smoking, anxiety, malnutrition, obesity, genetics and older age.
What is the cost for periodontal treatment? Will insurance cover it?
The price of your periodontal care depends on the severity of your gum issues and the procedures necessary to address these issues. Following an examination of your mouth, our team can provide you with a cost breakdown. When it comes to gum health, dental insurance plans often provide better coverage for preventive care than actual periodontal treatments. Check your individual policy to determine what you are entitled to.
Can gum disease be reversed?
When gum disease is in its earliest stage (gingivitis,) practicing good oral hygiene and working with a periodontist for gum disease treatment can help you to reverse the condition's effects. Once the disease progresses to periodontitis, gum damage cannot be reversed. Instead, the goal shifts toward management and mitigating future harm.