Implant Dentist Seattle & Kent
Located in Seattle, WA and Kent, WA, we are your local, comprehensive dental solution for all your periodontal needs. Pacific Northwest Periodontics can help you begin your journey to a healthy, beautiful smile.
Schedule Your Consultation

How can we help?
Our mission is to save our patients time and money while helping them to avoid pain. We want them to achieve and maintain optimal oral health and smile with confidence. We love to educate the dental community on the newest techniques and technology in dental science to help them to perform their best work and offer the best care to their patients.

Why Choose Our Periodontal Specialist
With our convenient location in seattle and kent, we are your local comprehensive periodontal office, able to manage everything from periodontal therapy to all-on-4 dental implants, gum and bone grafting and oral surgery.
We care for patients from Seattle, Renton, Kent, Turwila, Bellevue, West Seattle, Newcastle, Burien, Tacoma, Puyallup, Fife and Everett.
Board certification with the American Board of Periodontology (ABP) is an important indicator of a periodontist's expertise and commitment to the highest standards of care. The ABP is the recognized board for the specialty of periodontics, and board certification is a rigorous process that requires extensive training and experience, as well as passing written and clinical exams.
According to the American Academy of Periodontology, only about 35% of periodontists in the United States are board certified by the ABP. This means that choosing a board-certified periodontist is a way to ensure that you are getting care from a specialist who has demonstrated the highest level of knowledge, skills, and experience in the field.
In summary, if you are seeking the best periodontal care, it's a good idea to choose a periodontist who is board certified by the American Board of Periodontology. This distinction is a strong indication that the periodontist has met rigorous standards and is well-qualified to provide you with the highest level of specialty care.
Dr Rapoport, Dr Zarrabi, and Dr. Riccardo are board certified periodontists.

Meet Our Doctors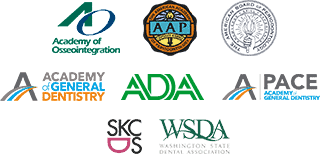 In The Media


Contact Us Today
Our Financial Services
We work with Alphaeon Credit and Care Credit for financial assistance. Contact our offices for additional information or click below to learn more.
>

Learn more

411 Strander Blvd,
Suite 302
Seattle, WA 98188
Monday

7:00 am - 4:00 pm

Tuesday

7:00 am - 4:00 pm

Wednesday

7:00 am - 4:00 pm

Thursday

7:00 am - 4:00 pm

Friday

7:00 am - 4:00 pm

Saturday

Closed

Sunday

Closed

24909 104th Ave. SE
Suite 102
Kent, WA 98030
Monday

7:00 am - 4:00 pm

Tuesday

7:00 am - 4:00 pm

Wednesday

7:00 am - 4:00 pm

Thursday

7:00 am - 4:00 pm

Friday

7:00 am - 4:00 pm

Saturday

Closed

Sunday

Closed